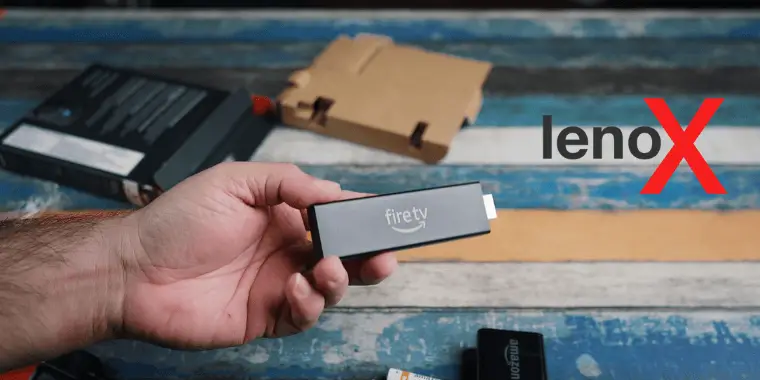 Do you want to download Lenox on Firestick but don't know where to find it since the media player is unavailable on the Fire OS Store? You can still download the media player on your Firestick, and this guide will show you how.
The Lenox Media Player is an amazing app you can use for an enhanced watching experience. There are plenty of features the media player offers, and the best part is that there are no ads. So, how to download Lenox on Firestick? To download the Lenox Media Player, you need to:
Enable third-party app support on the Firestick.
Download the Lenox app using a downloader.
Install the app, and launch it.
Enter your Lenox account details, and use the service provider you want to use for watching content, such as Netflix.
Read on to know the exact steps to download and install Lenox on Fire TV Stick.
What is Lenox Media Player App?
Lenox is a media player app that belongs to Lenox which is a software development entity. You can use it for watching videos, movies, and more. The app does not have any exclusive content to offer, but it lets you watch content sources from other service providers. In a nutshell, you can watch all types of content in one place using the Lenox Media Player.
The app is available in the form of. APK, therefore, the Fire OS supports it, and you can download it on an Amazon Firestick. Some exciting features the Lenox app offers include:
Multiple file formats are supported
It lets you stream content without ads
One account can work on different devices
Prerequisites to Downloading Lenox on Fire TV Stick
As you'll be downloading the app from an external source, you need to enable some settings to install the Lenox app. Just follow these steps, and your Firestick will be ready for any apps downloaded from third-party sites.
Grab the remote, and press the Home button. Now select Settings and choose My Fire TV.
Scroll down and select Developer Options.
Now select "Apps from Unknown Source," and turn it to "on."
A pop-up message will appear, click on Turn On, and you are good to go.
How to Download Lenox Media Player on Firestick
Let's hop on the main thing you are here for, and that's downloading the media player app. I have tried two methods, and both work pretty fine.
Method 1: Install Lenox Media Player Using ES File Explorer App
The ES File Explorer is a downloader that lets you download files on your Firestick. The application is available on the Fire OS Store or Google Play Store, and you can quickly get it by following the steps mentioned below.
Launch the Fire OS store on the Firestick, and select the search bar.
Enter ES File Explorer and initiate a search. Download the app and wait for it to get installed.
Now launch ES File Explorer and click on the Downloader option.
Head over to the bottom menu bar, and click on "New" option.
The APK file will get downloaded on your Firestick. Once done, click on Install, and the Lenox Media Player will get installed on your Firestick.
Press the Home button to get on the home screen, find the Lenox Media Player App, and you can use it.
Method 2: Get Lenox Media Player App Using the Downloader App
Downloader is also a file-downloading application like ES File Explorer, but easy to use. You can also use this method to get the Lenox app and install it. Here are the steps you need to follow:
Press the Home button, click on the Find Menu, then select the Search Option.
Enter Downloader in the search bar using the on-screen keyboard, and initiate a search.
Next, click on Install and wait for the app to get installed. Search for the app in the list of available applications, and launch it.
How to Set Up Lenox Media Player on Firestick
After launching the Lenox Media Player, there is a series of steps you need to follow. Setting up this app is simple, and you can do it within minutes.
You'll need to enter the Service ID to proceed. Enter the ID, and then click on Submit. You can even change the language if you wish.
Now you can choose the type of content you want to watch.
You can even click on Search and find preferred content.
How Much Does Lenox Media Player Cost?
Lenox Media Player is not free to use, and you need to take a subscription. The cost of the plan is around $24 per month, and I think that is pretty reasonable. You can purchase the subscription within the app.
Is there a free trial for Lenox? Well, no! There is no free trial available on Lenox, and you need to take a subscription to use the features and watch content online. However, you can cancel the subscription whenever you want.
Common Issues When Installing Lenox Media Player on Firestick
Some users reported a few issues when installing the app, so I figured out what was wrong. Here are the issues and the solutions you can try. 
Lenox Media Player is Running Slow
Sometimes the Fire TV Stick may get slow when you try to install the app. Restarting the streaming device helps. Just plug it out from the TV, wait for 30 seconds, and plug it back in. Now install the app again. 
Firestick storage is full
If the storage space on your Firestick is low or almost full, you won't be able to install the app. Free up some space by uninstalling a few applications, and try installing Lenox again.
How to delete the Lenox app from Firestick?
A: If you want to delete the Lenox App from your Firestick, you can do it by going into settings.
Click on Settings, and Select Manage Installed Applications.
Scroll down and find the Lenox app. Select the app and uninstall it.
Note: Uninstalling the app will delete all data related to the app, such as the libraries and content you have downloaded.
Frequently Asked Questions 
What to do with the Lenox MP App?
You can use the Lenox Media Player app to watch or stream content online. The best thing about this app is you get everything in one place. Just search for the type of content you want to watch, and you can stream it.
Can you use Lenox on Amazon Fire TV Stick without logging in?
No, you cannot use Lenox on Firestick without logging in. To use the features of this media player, you need an active subscription that costs around $24 per month.
Conclusion
Now that you know how to download Lenox on Firestick, you can install the app and stream content online. The Lenox player app is a must-have if you don't want the fuss of using multiple apps. Lenox does not offer or own any content, but you can watch content from the different service providers, and that is why using Lenox costs you money.
You can even screen mirror on the smart TV using your Android smartphone if you don't want to download the app and still want to use Lenox on Tv.
Enjoy streaming!